Puppies for Sale
... where true success is measured by Supreme and Australian Champion titles awarded by the ANKC

PUPPIES AVAILABLE

PUPDATE!

The beautiful *Vonpeta When the Bell Rings AZ aka Lilly presented us with 4 girls on 6 May 2023. Lilly is owned and loved by Martin, Kaila, Evie & Spencer Neddermeyer and they have kindly allowed us to have a litter with this beautiful girl. This is the second time Vonpeta have used *Wulkano-Uno von Schnitzerteam a HD who is currenlty one of the best producing sires in the country.
Lilly has been consistently been placed highly whenever shown culminating in best and Challenge Bitch under David Middleton (UK) in November 2022. The sire "Uno" produced a stunning typey progeny group at the 2023 National Show of which will grow in size at next years National with the inclusion of some stunning young progeny yet to be included in his group.
There will possibly be a female available but at this stage a number of factors need to be considered, one of which is coat type (long or stock coat).
***Bred in the Purple***
For those interested the puppies are line bred on Furbo Degli Achei 4-5.
Lilly's father is Ch Leberhine Joker AZ, has an exceptional record of producing animals sound in character with excellent results for hips and elbows. Joker's sire is Xaro Plassenburg (Bronze Medal 2016) and the dam is the stunning silver medal winner bitch 2016 Ch Leberhine Umeeko AZ. Lilly's mother is Best in Show winner *Ch Vonpeta Give Us A Grin AZ who's sire is Fremont Hells Bells AZ (Silver Medalist 2015, 2016, 2017, 2019 Bronze 2018) and dam Natchez Evas Revenge AZ (Top 20 National placed).
***Bred in the Purple***
Expressions of interest only will be taken at this point in time.
THE LITTER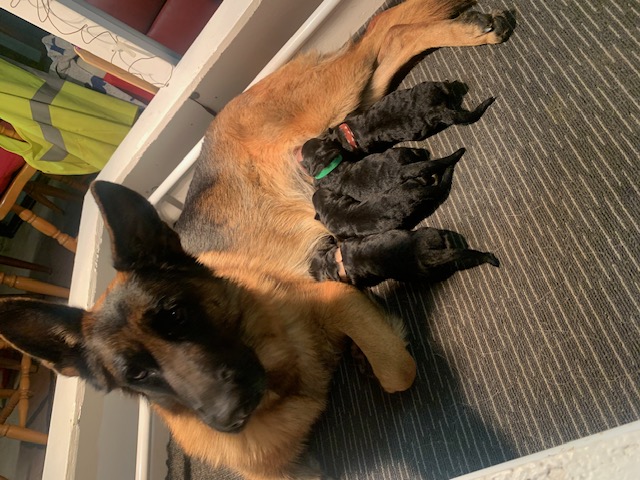 THE SIRE THE DAM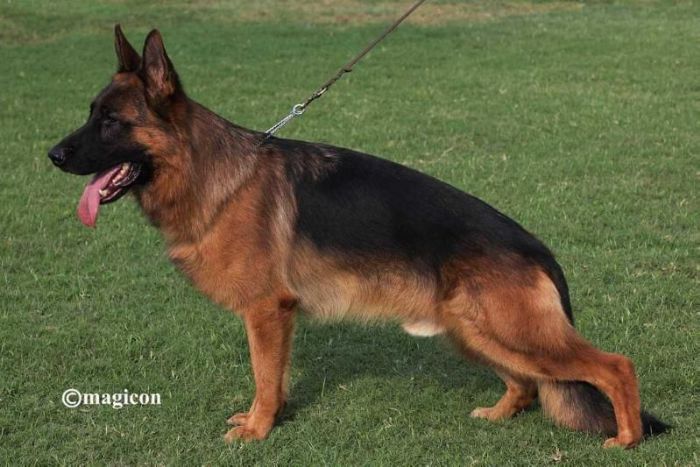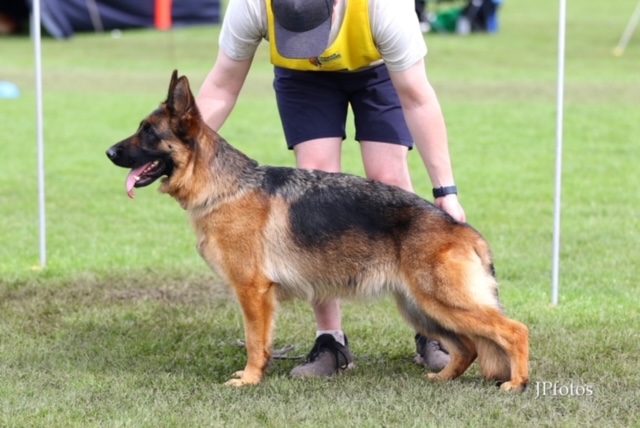 All puppies are very glamorous, coaty & richly coloured. Based the previous litter sired by Uno, the puppies will have super character & temperament which is expected from SA's most successful German Shepherd kennel (established 1973).

Both parents are hip & elbow scored with excellent results.
​​------**********------
Please contact Peter on 0412 809 499 to arrange a visit to view our adults and to discuss this or future litters. Please note we do not do SMS messages or PMs via Facebook we believe it is important that personal contact is made. Genuine enquires only.
------**********------
One of the advantages that Vonpeta can offer (if you live local enough to visit) is that we have stunning young adults bred along similar lines in our kennels and these should reflect what we expect for this litter.
DACO Number: 150664 DOGS SA REGISTRATION NUMBER: 5000007110
PREFIX NUMBER: 5100058628

*********************
All breeding stock is Hip & Elbow X-Rayed.
All puppies are:
- wormed fortnightly from birth
- vaccinated and micro-chipped before leaving the kennel.
And we supply new owners with the following:
- A diet sheet,
- puppy information book,
- veterinary health check,
- ADVANCE food sample,
- health insurance (which you can elect to continue if you wish),
- written guarantee for hips, elbows and temperament and
- transfer of Dogs SA Pedigree on the Main Register.
Our Breeding Platform
Successful dog breeding is not about breeding one successful animal. It is about developing consistent winning specimens of similar type through families. Such families are always underpinned by strong consistent bitch lines.

At Vonpeta what we call VONPETA 24/7 AFTER SALES SERVICE is offered for the life of your new family member. That is if you have a problem at anytime, I may not have the answer but with 40+ years of experience and I may be able to help. Vonpeta don't want you to have problems but if you do, I am here to help.
PET puppies are $4,000. A deposit of $500 is required but we do not take deposits until the litter is on the ground for at least 3 weeks and we know exactly what we have to sell.
Please note that if you are interested in a female puppy, the first pick girl from each litter is kept for showing - this of course depends if they are "show quality" puppies. If you are interested in a male puppy the first pick boy is reserved for a show home. Limited puppies are sold to show homes and a guarantee in writing is provided that our show puppies will pass the HD/ED Scheme.
Please note we will not export overseas!
Updated 8/5/23