Latest News
... where true success is measured by Supreme and Australian Champion titles awarded by the ANKC
Visit my Facebook page: www.facebook.com/Vonpeta​
PUPPY AVAILABILITY....
STOCK COATS - If you are interested in a Stock Coat puppy your telephone enquiry is welcome and I maintain an expression of interest file for future litters and am more than happy to discuss any planned litters with you.
LONG STOCK COATS - I have been receiving many enquiries regarding Long Stock Coat puppies which we only have available from time to time. At present I do not have any available or planned in the near future. When I have any LSC's available they will be advertised here on the website and on the Facebook page.

ZIP, ZAP, HARRY!
*CH Vonpeta Quackawoody AZ, aka Harry, Excellent 1 and Best Dog at the GSDC of SA April 2021 Members Comp and the icing on the cake was newbies Vonpeta Zap & Zip taking the Quinella in the Minor Class (6 exhibited) Congratulation to Harry's owners Mel & Dave and to Zap's owners Robert & Dawn.

Very happy with the results....
THE MEMBERSHIP HAS SPOKEN...
The results from the GSDCA 60 day motions are in and it appears that the country agrees that the compulsory Zap Test requirement for Breed Survey was an unnecessary burden on Clubs to administer and for Breeders and or Owners to comply with. For those that pushed for this test, primarily those that do not or no longer breed, put yourself in the shoes of the active breeders, small and large.... with the competing demands of life in general, age and for those few that are young with busy lives and young children the need to compete in an additional test was driving them away. The Survey system prior to the H-Plan worked! The CWA was not accepted and the Zap Test was further proof that these tests were deemed unnecessary by the average member.

Sanity has prevailed and future Vonpeta animals will again participate in survey when the need arises.

PUPPIES
*CH Vonpeta Grace N Beauty AZ has been mated and is now confirmed in whelp,
Vonpeta Sayonara Harmonisation AZ and Ch Vonpeta No Harmonisation AZ have been mated
Unfortunately all of these puppies have been spoken for at the moment.

Please click here for latest information regarding availablity of puppies
WOOOOO HOOOO WHATA WEEKEND!
In the Stock Coats - 4 Best of Breeds, 5 Puppy of Breeds, 5 Junior of Breeds and well done to Mel & Dave Anderson with the fluffies taking out 5 Best of Breeds

The icing on the cake is:
*Supreme Ch Vonpeta Faze Im Goin Thru AZ - Best in Group 4th,
Vonpeta Zap - Baby in Group (owned by Robert & Dawn Evans),
Vonpeta Ydouask Twodawgz - Puppy in Group AND
Ch (Pending) Vonpeta Ugottabe Sally (AI) AZ - Junior in Group and Best in Group 1st! This is Sally's second major group and she is not yet 18 months of age.

Thanks to the handlers - Miriam Schiller, Andrew O'Loughlin and Robert Evans for piloting the kids!

CHAMPION NUMBER 44!
Pending Dogs SA approval Vonpeta Ugottabe Sally (AI) AZ can add Australian Champion to her name. Sally is owned by both Peter and Jane and is handled by our good friend Miriam Schiller ably backed up by Andrew O'Loughlin. Sally is not yet 18 months old and is starting to mature nicely. Thanks to the Judges that have awarded her..... Sally finished of her title with a Best of Breed, 2 x Junior in Groups and a Junior in Show at the Gawler Kennel Club.

SABLE FLUFFY NEWS!
Two more kids from Leberhine Jeronimoe x Vonpeta Grace N Beauty have been awarded the A & Z Stamps for Hip and Elbow results. Contratulations to Vonpeta Valley of Dreams (owned by Maria Tataroglou) & Vonpeta Veni Vidi Vici (owned by Mel & Dave Adamson) on both receiving the offcial notification of their results (4/1/21)
FLUFFY NEWS!
New champion crowned - Vonpeta Veni Vidi Vici aka Booma can now add Champion to her name. Thanks to Mel & Dave of Vondoussa Kennels for campaigning the "destructo" machine to her title. Also, thanks to all who have handled the fluffy one to get her there.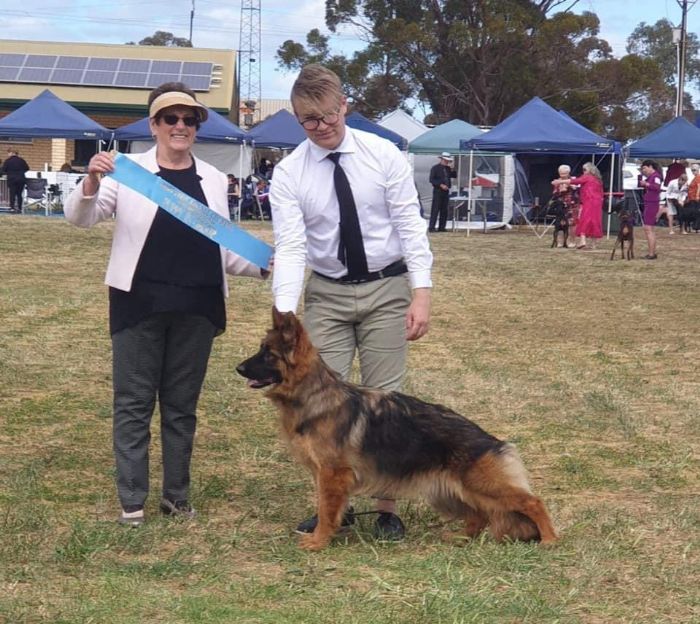 PUPPY ENQUIRIES
*Ch Vonpeta Grace N Beauty AZ will be mated toward the end of the year which will be a Long Stock Coat litter. Keep your eye on this page for updates. Stock coat matings will be annouced as soon as possible.

MORE EXCITING NEWS
*Supreme Champion Vonpeta Faze Im Goin Thru AZ (Faze) presented the kennel with 7 beautfiful babies on Sunday 28 June sire *Ypsilon Di Casa Caputi a ED The waiting list for these puppies has exceeded expectations and therefore, at this stage, no further addtions to the expression of interest list will be taken.

EXCITING NEWS
*Supreme Champion Vonpeta Faze Im Goin Thru AZ (Faze)
has been confirmed in whelp to the stunning *Ypsilon Di Casa Caputi a ED and is due around 28 June. Click on the link above for more information.
KID'S COLUMN!
Woof... Vonpeta Ugottabekidding here (aka Kid)! It has been supremely tough over the last few months for us doggies.... we have not been able to socialise at cafes, shopping centres or go for walks where their are lots of people. It is still going to be hard over the next few months. Now that restrictions for our humans are being eased it is time to nag them to get out your lead and get you out and about. This is really important for puppies to venture out into the big wide world and see new things. Even us old dogs like to go out too .... so get your feet moving and please have some fun with us!
Supreme love.... Kid!

EXCITING NEWS
*CH Vonpeta Give Us A Grin AZ (Smiley) confirmed in whelp!!!! Click on the link above for more details.

BEST IN SHOW
CH Vonpeta No Harmonisation AZ (Harmony) blitzed Naracoorte with 1 Runner Up Best of Breed, 3 Best of Breeds, 1 Runner Up in Group, 1 Aus Bred in Show and a BEST IN SHOW. H Dog is well on her way to her Supreme title. Thanks to Andrew, Miriam and Brooke for assisting with the clan over the weekend. Pictured below with Andrew.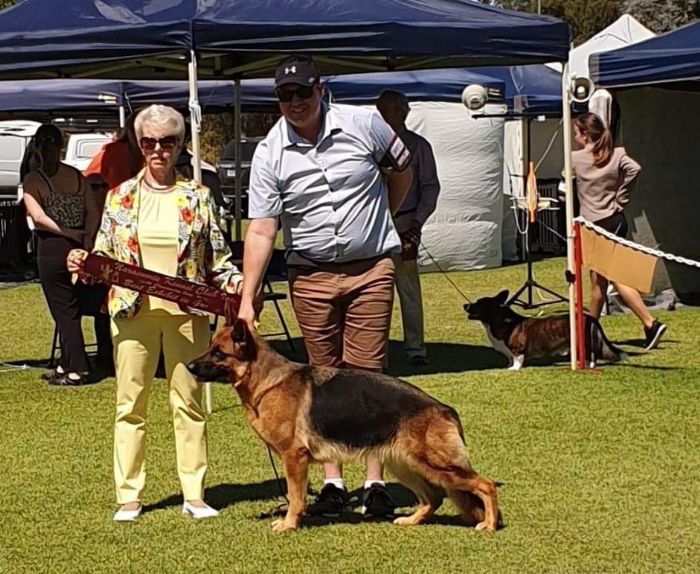 RIP VONPETA NUFFIN LESS
More Sad News! We received a phone call from our dear friends Jan and Graham Saltiel that their beautiful boy *Aust and NZ Ch Vonpeta Nuffin Less AZ (Lester) aged 10 years, has gone to Rainbow Ridge as a result of a nasty tumour. Lester was a son of Ch Vonpeta Champagne AZ from the much underrated sire Vonpeta for the Max. We packed his bag for NZ very soon after he was titled in Australia and within months he was titled "across the ditch". He was very competitive in NZ and perhaps the pinnacle came when he was awarded a Gold Medal in June 2012.
Despite the joy he bought to Jan and Graham in a wonderful show career, his greatest achievement was the love he provided to the "extended Saltiel family" particularly when camping each year at the beach over the Christmas/New Year period. Those holidays will never be the same. RIP Lester.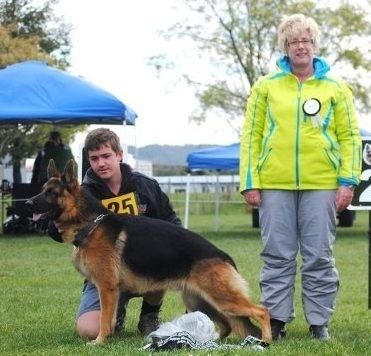 RIP VONPETA XFREEFIRTY
I am shattered to receive the news from Emily and Nathan that this special boy has passed to Rainbow Ridge as a result of severe spinal injury (causes unknown). You were a ripper Fred and sadly missed by everyone who came in contact with you. RIP Fred (survived by his famous sister Vonpeta Xmissustoo (Anni). Visit Fred's page http://www.vonpeta.com/vonpeta-xfree-firty.asp

CHANGE OF OWNERHIP - VONPETA KENNELS
For around 46 years Vonpeta Kennels has been a successful breeder and has contributed to the breed survey system since the 1980s. The Breed Survey system has served the breed well and has been a valuable tool in Vonpeta's breeding success.
Unfortunately, the current proposed amendments being progressed by the GSDCA are a result of the Harmonisation Program which has meant that Vonpeta Kennels will revert to Peter's ownership early in 2020 and no further Vonpeta animals will be presented to breed survey (unless presented by new owners). I will not waiver from my commitment to a quality breeding program and only animals with A and Z stamp for hips and elbows will be bred. I feel extremely confident that the animals bred would pass survey under the current conditions but there is little point continuing to support a system from which I will be ultimately excluded as I have no interest whatsoever in achieving a leg of an obedience title to present an animal to survey. I have no intention of training "circus puppies" to undertake a ZAP test. The pups which I rear and develop undertake a much more practical education in society with regular excursions to busy shopping precincts, dog parks, club training etc. This will continue.
This is not a decision which has been taken lightly and in my opinion is the end of an era where Vonpeta could honestly lay claim to being one of the most successful "dual ring" kennels in Australia with 42 excellent graded animals, 1 Supreme Champion (another one point away),1 Grand Champion and 42 Australian Champions. Our web page will be amended over the next few weeks to reflect this major change to my show/breeding policies.
The current amendments are being progressed by a very dominant group of older enthusiasts who, in the main, no longer breed and have lost sight of the reality and practicality of breeding quality German Shepherd Dogs. The conditions are just another imposition on genuine breeders and making it so much easier for backyard breeders to gain a hold. These impositions will make it difficult for imported dogs (many of which are owned by surveyors/judges) to recoup their outlay by way of stud services as the number of surveyed bitches will decline rapidly. Two questions, which no one seems able to answer because the current breed survey system has served the breed admirably for many years:
(1) Why do we need to make it so prohibitive?
(2) What will be gained?
To those progressing this situation, take a look around you and see how many young people there are stepping up to the breeding/exhibiting plate. The current amendments will ensure that there will be even less in the very near future. My prediction is that there will be less than 10 Australian bred surveyed dogs or bitches in the National open classes within 10 years.
If the Breed Survey system is maintained in its current form, Vonpeta Kennels would continue to support the scheme. Hopefully serious established breeders will overturn this stupidity in due course. Surely many such breeders do not yet realise the implications for them.
INTRODUCING VONPETA UGOTTA BE SALLY!
In her first outing at 3 months and 13 days "Sal Pal" cracks BABY IN GROUP under an International Judge.... she is showing much promise and her sister and half sister are not looking too bad either.....

MOE x PUMA REPEAT MATING!
We are pleased to annouce that Puma is whelp again to *Ch Leberhine Jeronimoe AZ .... puppies due around mid December... Watch our Puppy page for more information.
MOE x PUMA 2 x AZ.....
Congratulations to Ch Vonpeta Qwackawoody and Vonpeta Qwapmapants who can now add an A and Z to their names!
LATEST PUPPY NEWS.....
Our current batch of puppies are waiting with bags packed to move to their forever homes where we are sure they will be very happy....

WHAT A WAY TO RETIRE SUNDAY 8 SEPTEMBER 2019
*Sup Ch Vonpeta Ugottabekidding AZ after being awarded his 3rd Best of Breed at an Adelaide Royal, today Kid went Best in Group 4th! He is now officially retired from the All Breeds Ring.

Today will be remembered for more than just a fabulous result as it is with much sadness that our dear friend Andrew Jones lost his battle with Pancreatic Cancer. Andrew and Jane enjoyed regular discussions about dogs, rules, dogs, more rules, football, life and work.... those conversations will be held dear and missed so much. To Rachel, Trinty, Stephanie and Ayden and both the extended Jones & Tantaro families our thoughts are with you.... Hopefully Richmond can bring home the Premiership for you.
Jonesy Rest in Peace our friend x

ITS ROYAL TIME AGAIN.....
Our kids did our kennel proud again at this years Royal on Breed day. Results were:
1st Open Dog, Challenge Dog & Best of Breed - *Sup Ch Vonpeta Ugottabekidding AZ
3rd Puppy Bitch - Vonpeta Rejects Harmonisation
2nd Intermediate Bitch & Reserve Challenge - Ch Vonpeta No Harmonisation AZ
1st Australian Bred Bitch - *Ch Vonpeta Faze Im Goin Thru AZ
1st Open Bitch - Ch Vonpeta Bettabegood AZ
2nd Open Bitch - *Ch Vonpeta Give Us A Grin AZ

Our record since 2001 (18 years) stands at 3 Puppy of Breed, 5 Challenge Dog, 14 Challenge Bitch, 8 Runner Up Best of Breed, 10 Best of Breeds, 1 Best in Group 3rd, 2 Best in Group 2nd and 2 Best in Groups 1st

WHAT A WEEK.....
*Ch Alimanda Fire Walker AZ became a father again - twice!! On Tuesday 13 August *Ch Vonpeta Zipper Tee Doo Daa AZ presented us with 5 males and 3 females and on Saturday 17 August *Ch Vonepta Xmissustoo produced 7 females and 2 males.

WE ARE BACK IN THE SHOW RING.....
After 3 months away from the show ring the team exhibited at the Adelaide Districts Working Dog Club under judge Ms L Irvine on Saturday 4 May and finished with outstanding results... *Sup Ch Vonpeta Ugottabekidding AZ was Runner Up Best in Show, Vonpeta No Harmonisation was Junior in Show and Vonpeta Quackawoody (owned by Mel & Dave Adamson) was Minor in Show. On Sunday 5 May under Mr J Fenner results were still pleasing with *Sup Ch Vonpeta Ugottabekidding AZ Reserve Challenge, *Ch Vonpeta Xmissustoo AZ Challenge Bitch and Runner Up Best of Breed and Vonpeta Quackawoody again Minor in Show.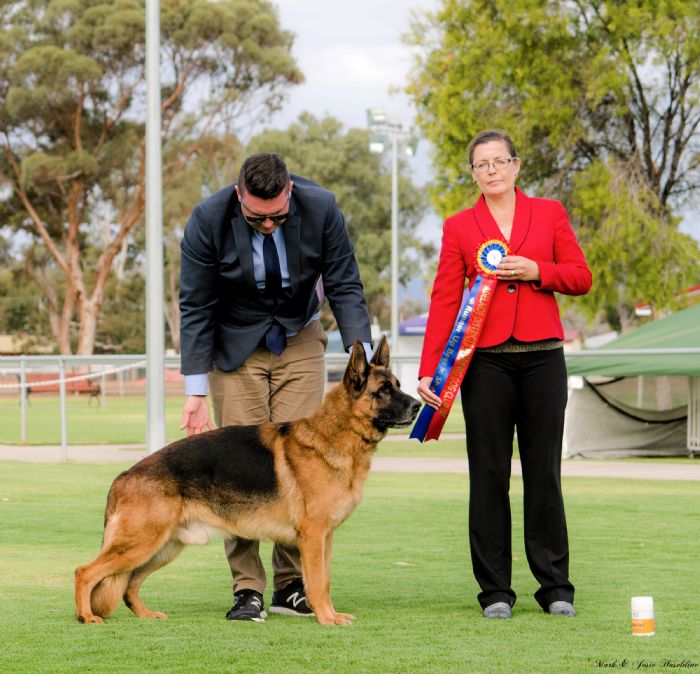 THE MOVE....
The spiritual home of Vonpeta Kennels will always be the delightful property at Longwood, South Australia where the kennel was operated for some 46 years. On the 23 April 2019, we moved to Two Wells where we have established a much more modern complex for both ourselves and our beloved German Shepherd Dogs.

2019 NATIONAL RESULTS
Our home bred rising star Vonpeta Quackawoody aka "Hairy Harry" owned by Dave & Mel Adamson from Vondoussa Kennels, won the Long Stock Coat class at the National held in Victoria in April. Other highlights were four Vonpeta girls were exhibited in the Open class and all were awarded the Excellent Grading with the highest placed Ex 19.

The icing on the cake was the performance of Ch Vonpeta Just By A Head AZ to finish Ex 12 in a very strong Open Dog class with his dad Ch Fremont Hells Bells AZ finishing his remarkable career Ex 2/Silver Medal. Ollie, in our opinion, is one of the most successful males bred and shown in Australia.
FIRST SHOW FOR 2019 IN SA AND NEWS FROM VICTORIA
Damn good weekend!!

Received the best news today that *Ch Vonpeta Just by a Head AZ aka Brew owned, loved and campaigned by Ian Austin was awarded his first Excellent Grading at the Victorian State Breed Exhibition. Excellent number 42 for Vonpeta kennels - thank you Ian.

.... and for our first shows in SA for 2019. *Ch Vonpeta Xmissustoo AZ Australian Breed in Group on Saturday 9 March and her daughter Vonpeta No Harmonisation Best of Breed and Junior in Group on Sunday 10 March. Thanks Andrew & Miriam for your amazing handling skills!!
FAZE HAS GIVEN BIRTH!
Born 31 January 2019 5 boys and 6 girls. The sire was *Ch Jayshell Nebraska AZ and dam *Ch Vonpeta Faze Im Goin Thru AZ.... 11 puppies from frozen semen thanks to Noahs Crossing Veterinary Clinic. Mum and babies doing well, dad is oblivious to his new brood LOL and Midwives Peter & Andrew are exhausted. Go to puppy page for more information.

ZIPPER TEE DOO DAA .... DOO DAA DAY!!!
Great night at Dogs SA to pick up Zips final points...... Congratulations to Judy, Andrew & Wayne O'Loughlin from Arkahla Kennels on gaining Zippy's Australian Champion title. Handled by her "real" dad for her final points (you should have seen the smile on his dial) for her title. Zip can now be known as Australian *Champion Vonpeta Zipper Tee Doo Daa AZ (Dogs SA pending). Vonpeta's home bred Champion - NO 38!

CRACKER RESULTS FROM MILLICENT
The Vonpeta crew had a marvellous coup of weekends in Millicent and Mount Gambier in the past month taking out 5 groups from a possible 8 shows plus numerous other wins. Thanks to our mates that assist us at shows with handling, holding and sharing friendships. We would not be able to do it without you.
Thanks also to ADVANCE for keeping our dogs looking good!
*CH VONPETA FAZE IM GOIN THRU IS GETTING CLOSER
The next Supreme is nearly ready to be served.... but will be put on hold due to maternal duties.
2018 ADELAIDE ROYAL - BEST IN GROUP 2ND AND PUPPY IN GROUP!
Another fantastic year for team Vonpeta at the Royal Show! Ch Vonpeta Bettabegood AZ performed at her absolute best this year, winning Open Bitch and Challenge Bitch with her dad, Peter, handling her before he had to call for the 'back up' handler! BB then went on to win BEST OF BREED and Best in Group 2nd equalling her dad's (Kid) performance of 2016! On top of this, Sup Ch Vonpeta Ugottabekidding AZ Class I Multi Exc Graded 1st Open Dog, Dog Challenge and Runner up Best of Breed, Ch Vonpeta Xmissustoo AZ Class I Multi Exc Graded 3rd Open bitch, Ch Vonpeta Faze I'm Going Thru AZ BS Clas Exc Graded 1st Australian Bred Bitch and Res Challenge Bitch, Vonpeta Give Us A Grin AZ BS Clas Exc Graded 1st Intermediate Bitch and Ch Vonpeta Grace N Beauty AZ BS Clas Exc Graded 1st Open Bitch, Bitch Challenge and Best of Breed. Star of the team was Vonpeta No Harmonisation at 8 months of age taking out PUPPY IN GROUP! Great job and thank you to Andrew O'Loughlin, Darcy Clarke and Peter Damarell for handling, and a special mention to everyone (and there were too many to name) that helped hold dogs on the outside!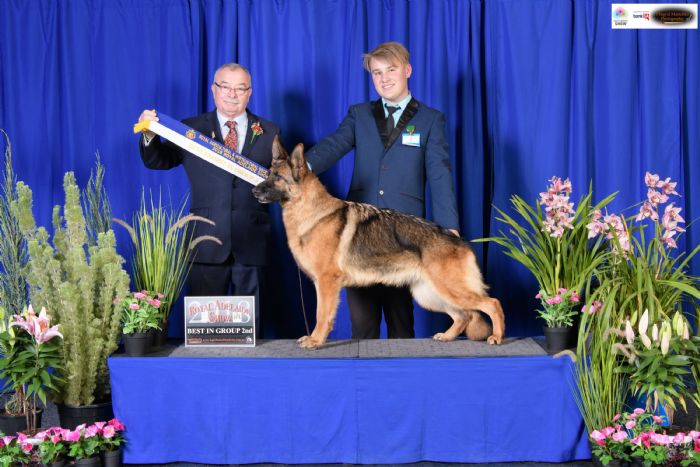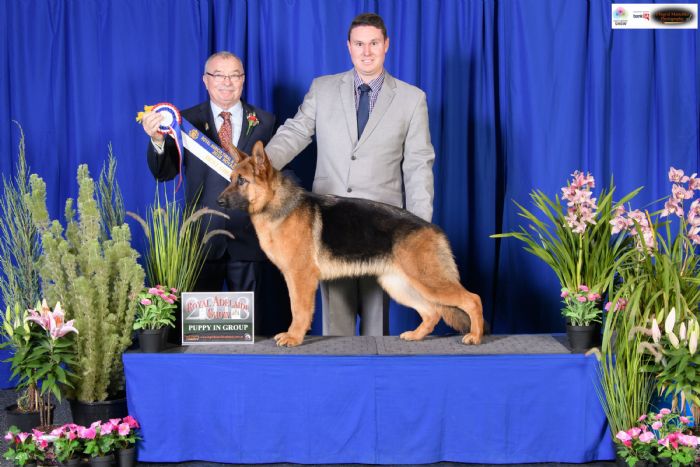 HARMONY BABY IN GROUP...AGAIN
Vonpeta No Harmonisation (Harms) grabbed another Baby in Group at the Dublin Kennel Club with Faza and Smiles each taking a SC Best of Breed and Puma both LSC Best of Breed's
NORTHERN TERRITORY UPDATE
Congratulations to Michelle Morelli on obtaining Vonpeta Gerry Hatrick AZ (Zed's) Australian Champion Title. Vonpeta's total of HOME BRED CHAMPIONS is now 36!
ADELAIDE DISTRICT WORKING DOG CLUB
SMILE we did when *Vonpeta Give Us A Grin AZ (Smiley) did not put a foot wrong and took out BEST IN SHOW at the ADWDC Club under Ms Lisa Berrill (Vic).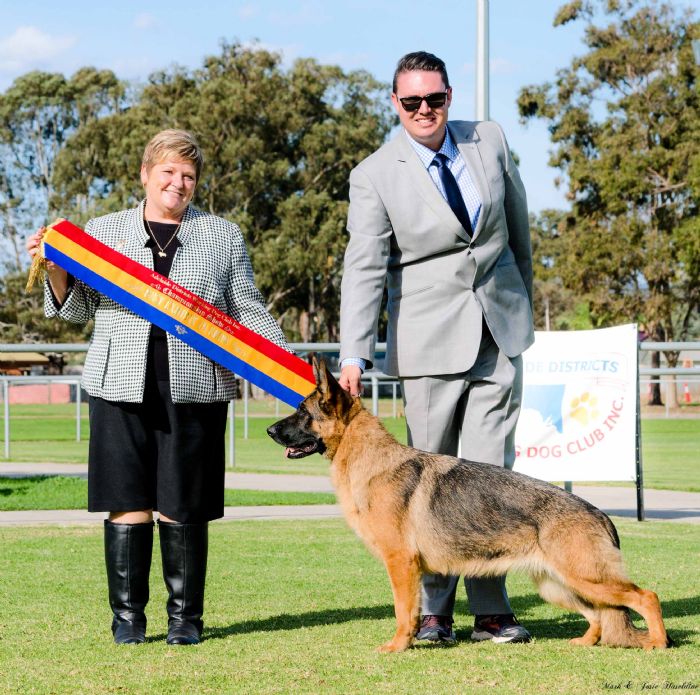 MILDURA WEEKEND 4 5 & 6 May
*Ch Vonpeta Faze Im Goin Thru AZ (Faza) had a ripper of a weekend with 3 x Best in Groups under Mr Kerry Lee, Mr James Camac & Mr Don Mahoney finishing with a Runner Up in Show under Mr Mahoney. Vonpeta No Harmonisation (Harms) made her presence felt in the Baby Class with 3 x Baby in Groups and 2 x Baby in Shows. Thanks to Darcy for piloting both girls to these knockout results!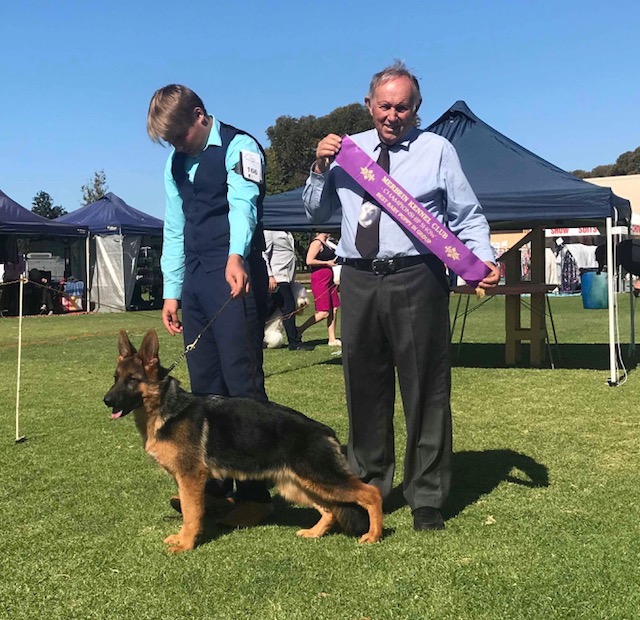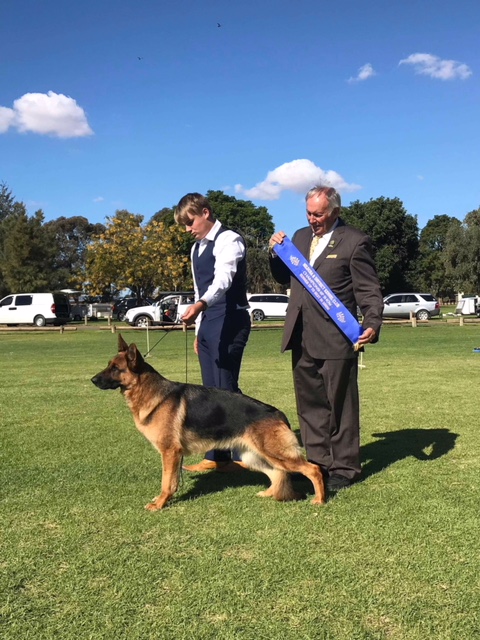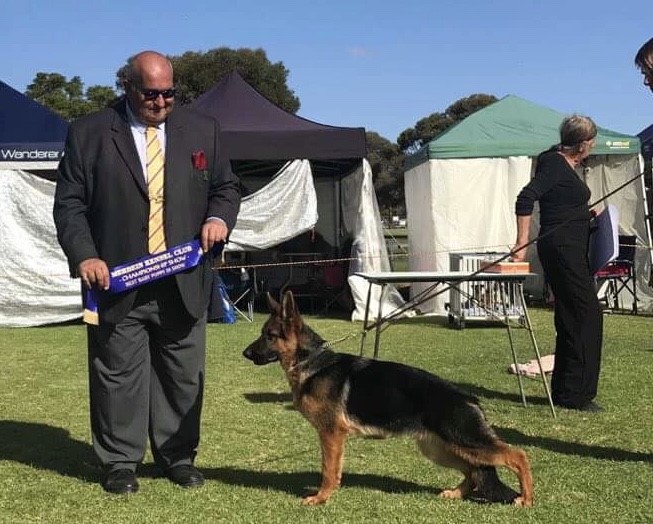 2018 NATIONAL ON THE PEGS
*Sup Ch Vonpeta Ugottabekidding AZ (Kid) Excellent 6 in the Open Dog class equalling his 2015 performance.
*Ch Vonpeta Grace N Beauty AZ (Puma) Very Good 3 in the LSC Intermediate Bitch Class
Vonpeta Lets Lick Em (Avy) Very Promising 8 in the Minor Puppy Bitch Class - owned, trained and loved by Racheal Williams & Andrew Rondinelli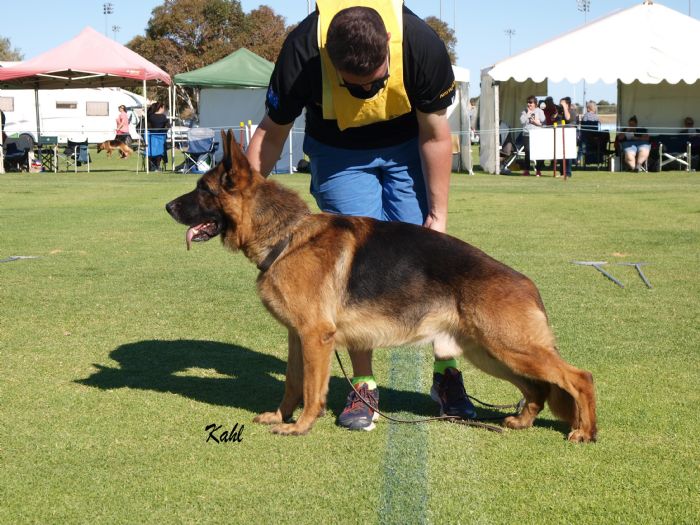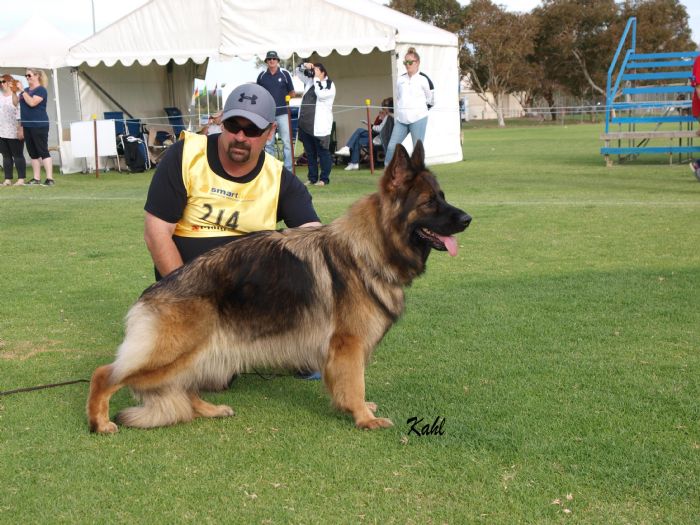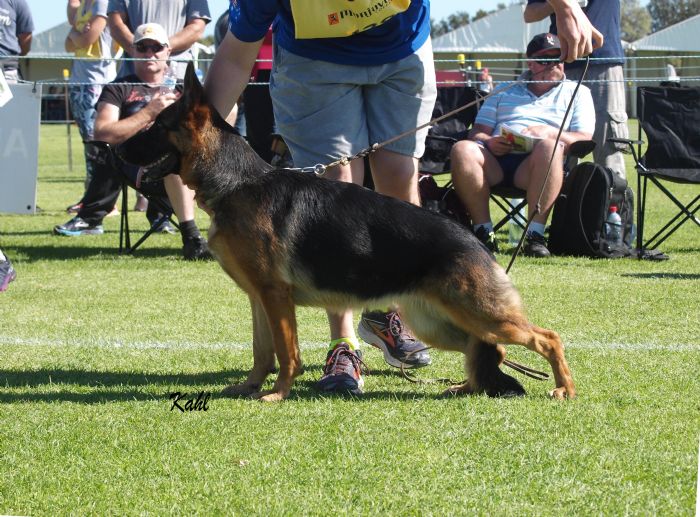 ALL BREED DOG CLUB
The team picked up 7/7 challenges available last weekend with Annie back in the show ring after mothering duties.

BEST IN SHOW PORT PIRIE
Ch Vonpeta Faze Im Goin Thru AZ (Faza) Best in Show in Port Pirie under Mrs Jean Butterfield (Group) and Mr Ted Kerley (Gen Specials) over the Easter weekend. Thanks Darcy for taking good care of Faze and showing her so well!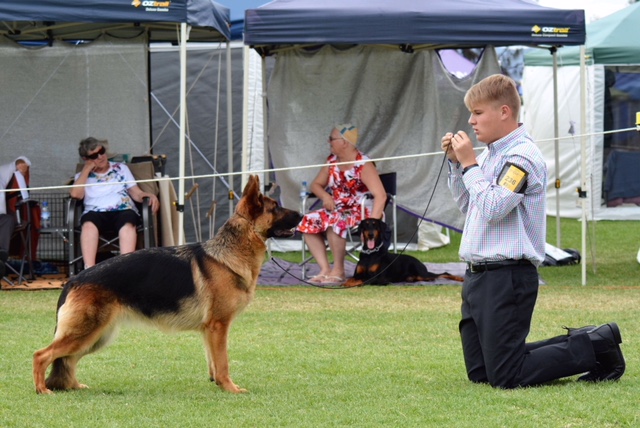 VICTORIA....VICTORIA...
Great weekend travelling to Bulla and Lyndhurst for the Australia Day Weekend of shows. The Vonpeta team conquered 8 challenges from a possible 9 and 6/6 Best of Breeds for the Stock Coats and Long Stock Coats.
ACD AMENITIES SHOW JANUARY 2018
Ch Vonpeta Faze Im Goin Thru AZ (Faza) Best in Group 1st and Best in Show 4th on Sunday night under Mrs W Baker and Mrs B Fergusson both SA. *Sup Ch Vonpeta Ugottabekidding AZ (Kid) Best in Group 2nd on Friday night under Mrs J Heard (SA). Faze had a team of handlers over the weekend - thanks Darcy, Lyndsay & Andrew!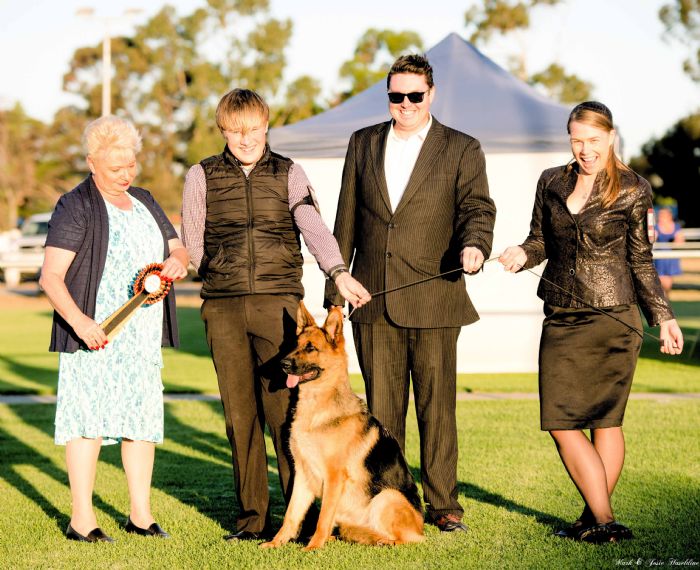 PUPPY IN GROUP & BEST OF BREED
Vonpeta Just Bya Head aka Brew (Hells Bellz x Zippy) took out his first Best of Breed and Puppy in Group at Bulla with a 19 point challenge. Well done to Ian Austin for keeping Brew in top condition!!!

AUSTRALIAN CHAMPION NUMBER 35 AT ONLY 10 MONTHS OF AGE!
Australian Ch Vonpeta Just Slip N Trip (title pending) aka Miss Paris (Hells Bellz x Zippy)! Congratulations to Michelle Mercieca, Shebelle Kennels Victoria for promoting the fluffy French dog and gaining her Australian Champion title at just 10 months of age. This is a great achievement a young long stock coat sable - thanks to the judges for recognising her worth.
AUSTRALIAN CHAMPION NUMBER 34!
Australian Ch Vonpeta Faze Im Goin Thru AZ gained her title in Mount Gambier in fine style. At only 15 months our second Billidakid daughter (sire Alimanda Fire Walker) is hopefully following in her big sisters foot steps! Thanks to Darcy Clark for handling and enduring Peter's crazy sense of humour to get this girl titled!!! Whoooo Hoooo!​​​​
WE GOT IN ON THE ACT IN THE ACT!
Supreme Ch Vonpeta Ugottbekidding AZ Class I Multi Exc Graded performed at his best to be Excellent 2 behind the magnificent Xaro (I think that is about the 4th time this has happenned). Australian Champion Vonpeta Grace N Beauty AZ (Title Pending) was awarded Best/Challenge Bitch from the Junior Class. This put her over the line for her title. Sensational achievement after just 3 months in the show ring.
Go Pu-ma-pants!
Puma was also awarded Junior in Show at the ACT Group Specialty Show along with her 3/4 sister Vonpeta Just Slip N Trip being awarded Minor in Show. Great weekend in the nations capital......
2017 ADELAIDE ROYAL - ANNIE BEST IN GROUP 3RD
Ch Vonpeta Xmissustoo AZ Class I Multi Exc Graded performed at her absolute best at this years Royal Show to clinch Best in Group 3rd behind some outstanding animals. On top of her Best of Breed win, Ch Vonpeta Bettabegood AZ was 1st Intermediate Bitch, Reserve CC Bitch and Runner Up Best of Breed. Vonpeta Give Us a Grin AZ 1st Junior Bitch and Vonpeta Faze Im Goin Thru AZ 2nd Junior Bitch. Vonpeta Grace N Beauty AZ took out LSC Best of Breed, from the Junior Class. GREAT ROYAL! Great job and thank you to Darcy Clark, Andrew O'Loughlin and Peter Damarell for handling and not to be forgotten a special mention to Darcy's mum Jo and "Tentefield" Jan for their assistance with "holding".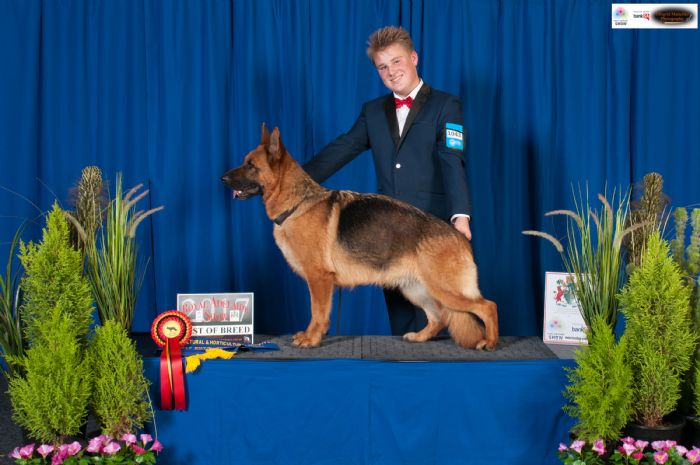 FINALLY - SUPREME AT LAST
GRAND Ch Vonpeta Ugottbekidding AZ Class I Multi Exc Graded can now known as SUPREME CHAMPION.... Thanks to all of the judges that have recognised Kid in the show ring. Thanks to co owner Andrew for his handling skills as always......
JANUARY 2017
Ch Vonpeta Ugottbekidding AZ Class I Multi Exc Graded was awarded Best in Group under Breed Specialist Mrs Jean Butterfield on Sunday 19 Feb. Kid only needs one more group to achieve his Supreme Title!

ON A ROLL!
Vonpeta Faze Im Going Thru on a roll with 7 Baby in Groups and 1 Baby in show as at 4 December 2016. Faza is by a young dog who is producing some cracker progeny *Alimanda Fire Walker AZ. Her mother *Vonpeta Ourbillidakid AZ has already produced a Champion *Ch Vonpeta Xmissusstoo AZ who achieved her title at 13 1/2 months of age.

UGOTTBEKIDDING BEST OF BREED 2016 ADELAIDE ROYAL - BACK TO BACK ROYAL SHOW WINS
Ch Vonpeta Ugottabekidding AZ Class I was awarded Best of Breed at this years Royal Show. Vonpeta Zipper Dee Doo Daa AZ Class I won the Australian Bred Bitch Class and Vonpeta Betterbegood AZ the Junior Bitch Class Thanks, as always to handler Andrew and to Judy & Andrew (Arkahla Kennels) for having Zippy is such beautiful condition.

​ROYAL STOP PRESS: KID GOES RUNNER UP IN GROUP 5 ADELAIDE ROYAL.....
Critique by the Judge from the Royal "I had a super mover (both BOB and Runner UP) and beautiful puppies. It was one of the first time I have enjoyed to judge this breed)"
Just proves that the GSD can do it in both rings!

UGOTTBEKIDDING EXCELLENT 6 OPEN DOG 2015 GSD NATIONAL SHOW & TRIAL
Ch Vonpeta Ugottabekidding AZ Class I was graded Excellent 6 at the 2015 GSD National Show & Trial. The Kid was the second youngest in the class and was the second highest placed Australian Bred Dog. Congratulations to his dad Toby v Plassenburg on the Gold Medal and his 1/2 brother on Excellent 7.

VONPETA WINS BREEDERS GROUP 2015 GSD NATIONAL SHOW & TRIAL
Thanks to handlers Andrew, Tori, Robert, Bree & Rhonda for handling in the Breeders Group - great effort guys - we are over the moon!

UGOTTABEKIDDING - AVAILABLE AT STUD
"The Kid" Ch Vonpeta Ugottabekidding AZ (Toby vd Plassenburg x Vonpeta Champagne)
CLICK HERE to be directed to "The Kid's" Stud Dog page.

Please visit our Puppy Page if you are interested in purchasing a quality puppy from quality lines.
CLICK HERE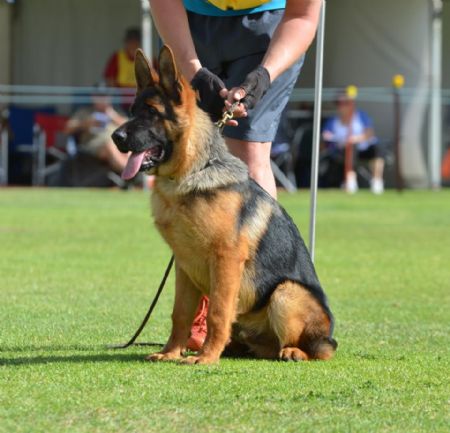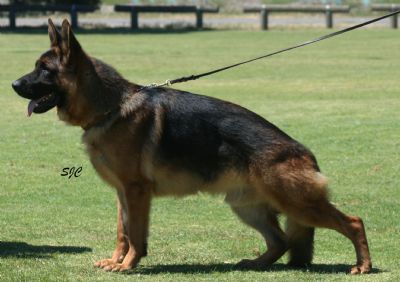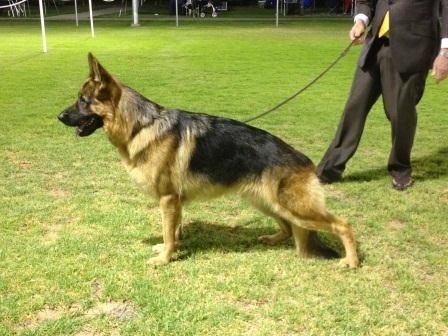 Ch Vonpeta Tolder Just Do It A Z (co owned with Melissa Lloyd from Vondoussa Kennels) Champion number 29